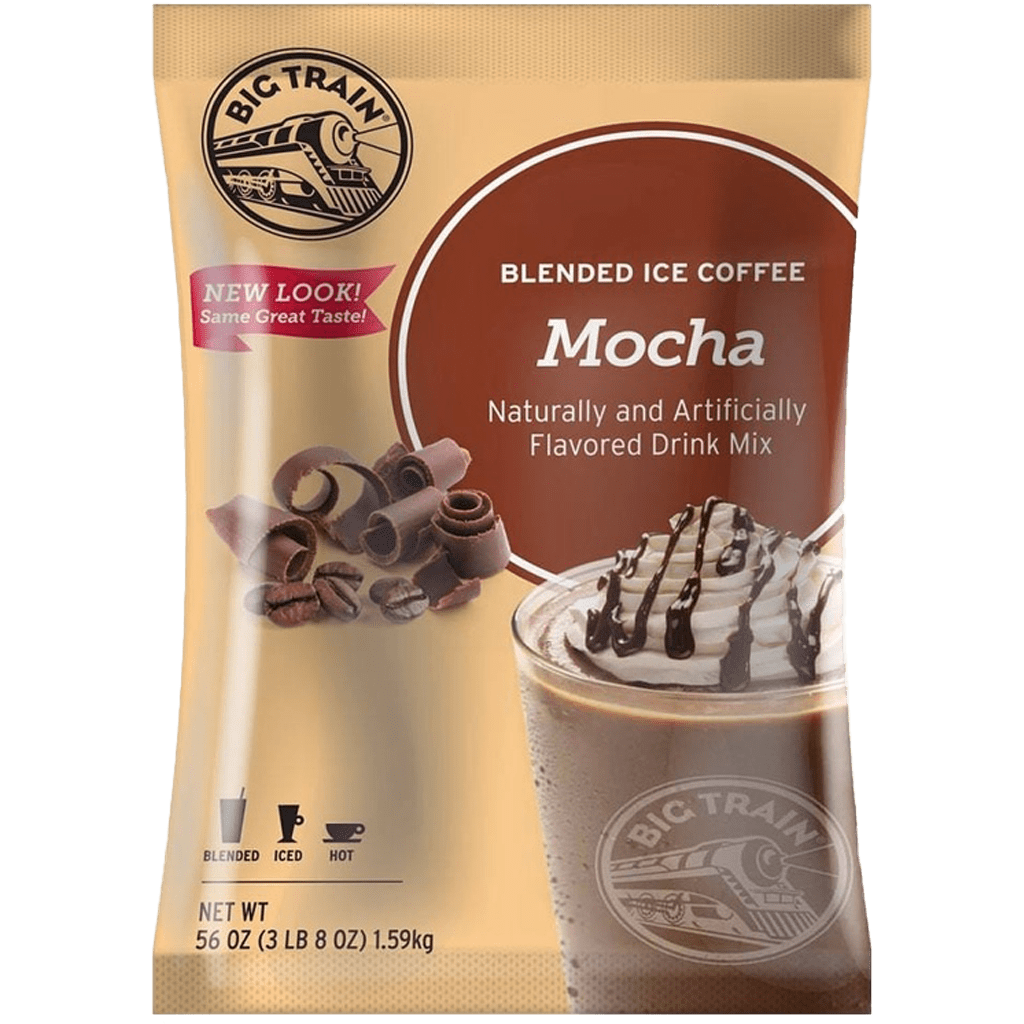 Big Train Mocha - 1.59kg
---
30-day money-back guarantee
Free Shipping in U.S.
Buy now, get in 2 days
المكونات :
المكونات: سكر زيت جوز الهند شراب الذرة الصلبة, حليب خالي الدسم بودر الكاكاو (المجهـز مـع القلوبات),قهوه,كازينـات الصوديـوم (بروتين مستخلص من حليب الابقار E469) نكهات طبيعية وصناعيه (الشيكولاته). ثاني أكسيد السيليكون (عامل ضد التكتل E551), دی بوتاسيوم الفوسفات (E340), استرات بروبلين جليكـول مـن الأحماض الأمينية امستحلب نباتي الاصل E477), أحادي وثنائي الجليسريد ( مستحلب نباتی الاصل E471), صمغ الكاراجنان (مثبت نباتي الاصل E407), ملح, ليسيثين الصويا (عامل معالجة مساعدE322 ).صمغ الغوار (412) ، صمغ الزنتان (E415)،مستخلص الاناتو (لون E160b). خالي من الزيونت المهدرجة جزئياً.
القيمة الغذائية لكل 40 جم:
طاقة 190 كالوري
بروتين  جرام  3
دهون  9 جرام
كاربوهيدرات 26 جرام
الدهون المشبعة  3.8 جرام
اجمالي الدهون 4 جرام
الدهون المتحولة 0.0 جرام
Ingredients :
Sugar, coconut oil, corn syrup solids, Nonfat milk, cocoa powder (processed with alkali), coffee, sodium caseinate (a milk derivative), natural and flavors, silicon dioxide (anti-caking agent), dipotassium phosphate, propylene glycol esters of fatty acids, mono- and diglycerides, carrageenan gum, salt, soy lecithin, guar gum, xanthan gum, annatto extract (for color).
No Hydrogenated Oils.
Nutrition Information Per 40g: 
Energy 190 kcal
Protein 3  g
Fat  9g
Carbohydrates 26 g
Saturated fat 3.8 g
Total fat 4 g
Trans fat 0.0 g