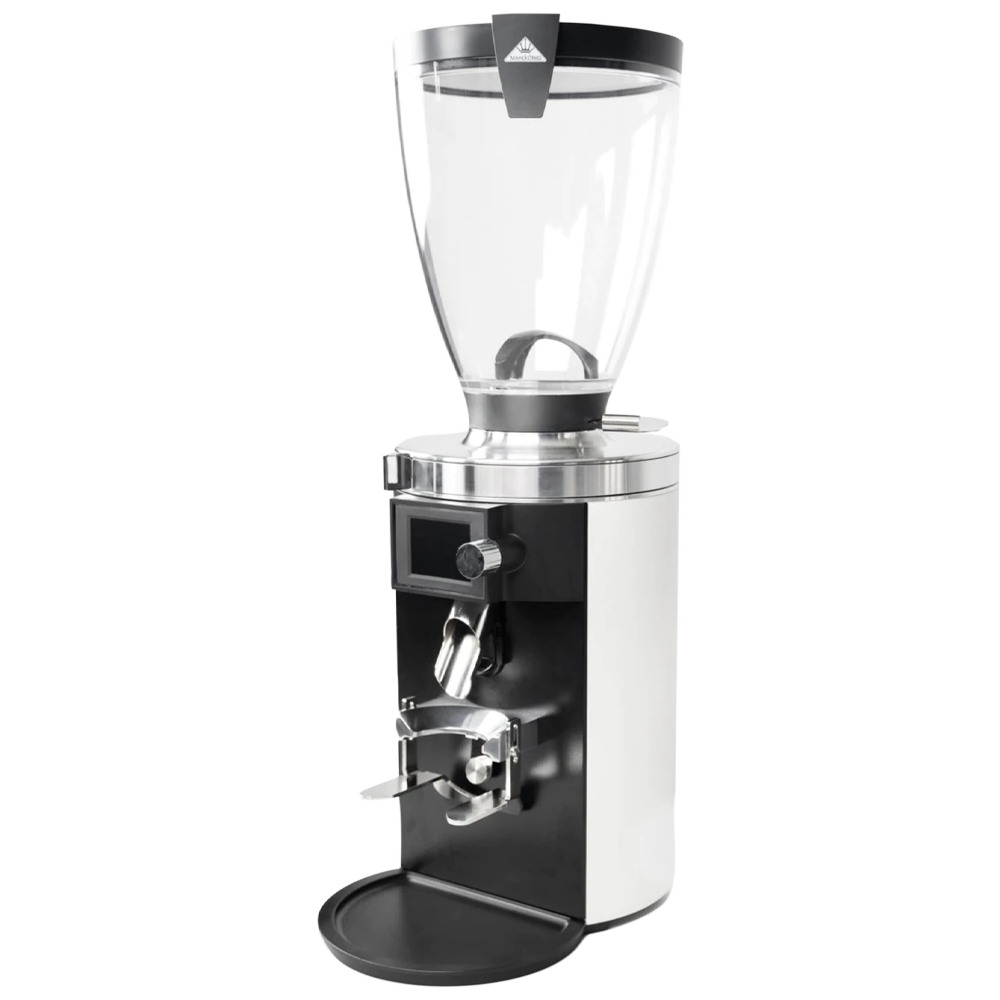 Mahlkonig E65S GbW Grinder- White
---
30-day money-back guarantee
Free Shipping in U.S.
Buy now, get in 2 days
العلامة التجارية: مالكونيق
نموذج: E65S GbW
مواصفات المنتج:
شفرات ممتازة ساعد على استخلاص رائع.
تقنية الطحن حسب الوزن التي تتميز بطحن كمية تعتمد على الوزن.
دقة عالية للتحكم في الوزن في الوقت الفعلي أثناء عملية الطحن.
مزودة بميزة اكتشاف مسافة القرص الحاصل على براءة اختراع مما يتيح ضبط إعدادات دقيقة لدرجة الطحن.
فوهة مضيئة قابلة للضبط مصممة بطريقة تحتفظ بمنفذ نظيف.
نظام تبريد نشط يحافظ على درجات حرارة منخفضة للطحن.
تتميز بصوت شبه صامت أثناء الطحن.
شاشة عرض عالية الدقة بزاوية رؤية واسعة.
سرعة دوران القرص: 1700 دورة في الدقيقة.
قرص الطاحنة: مسطح مصنوع من الفولاذ بحجم 65 ملم.
متوسط سرعة الطحن: 5-6 جرام/ في الثانية
سعة وعاء حفظ الطاحنة: 1200 جرام
الجهد الكهربائي: 220V – 60Hz
القوة الكهربائية:440W
الشاهدات: CE, CB, ETL Safety, ETL Sanitation
الارتفاع:  62 سم
العرض: 19.5 سم
العمق: 28.3 سم
الوزن:  12.2 كجم
صنع في ألمانيا
Brand: MAHLKONIG
Model: E65S GbW
Specifications:
Proven premium grinding profile for a great taste experience.
Grind-by-Weight technology featuring weight-based dosing.
High-precision load cell for real-time weight control during the grinding process.
Patented Disc Distance Detection (DDD)enabling accurate settings of the degree of fineness.
Adjustable illuminated spout providing a clean and centred coffee outlet.
Active cooling system maintaining low grinding temperatures.
Pleasantly quiet grinding.
High-resolution 88.3 mm display with a wide viewing angle.
Idle speed: 1400 rpm (50 Hz); 1700 rpm (60 Hz)
Burr diameter: 65 mm
Burr material: Special steel
Average grinding capacity*: 5-6 g/s
Bean hopper capacity: approx. 1200 g
Voltage: 220V– 60Hz
Max. nominal power: 440 W
Certifications: CE, CB, ETL Safety, ETL Sanitation
Height: 62 cm
Width: 19.5 cm
Depth: 28.3 cm
Net weight: 12.2 kg
Made in Germany