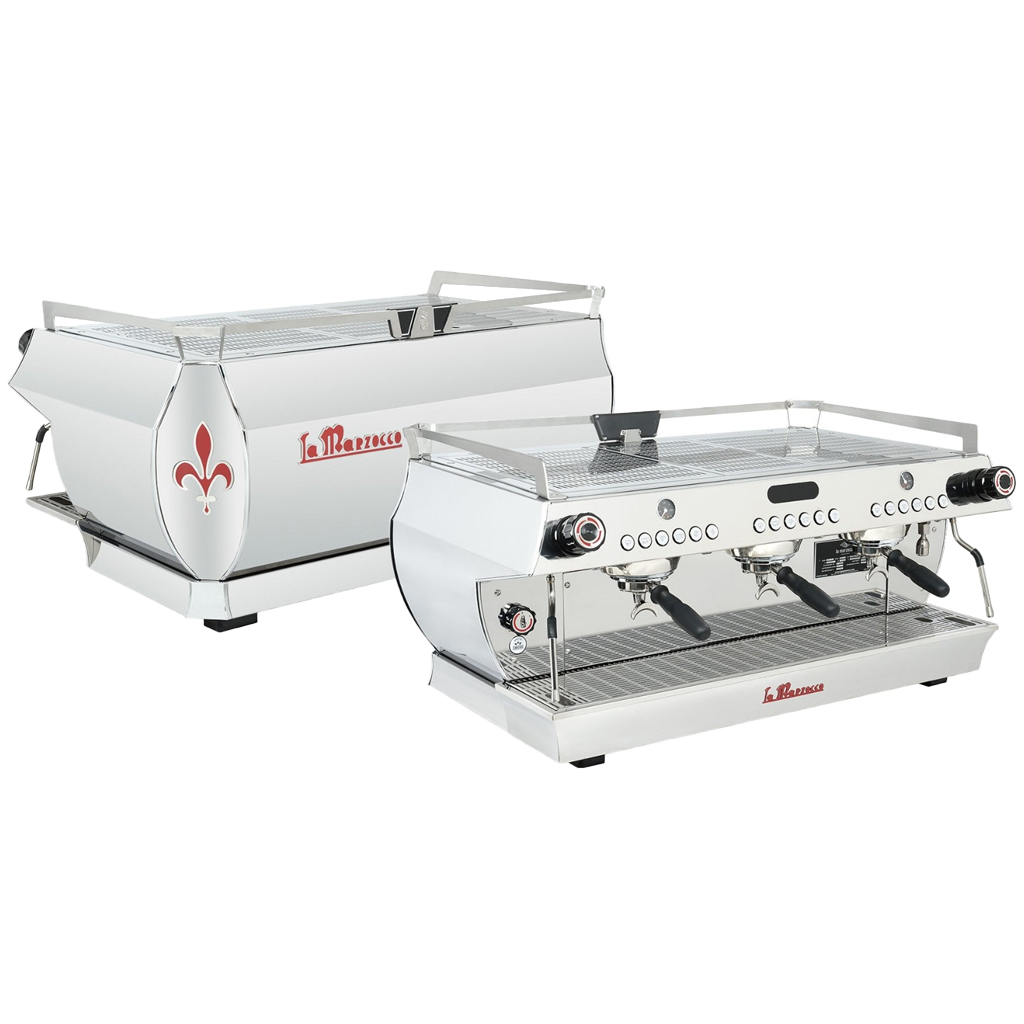 La Marzocco GB5 S AV 3 Group- Steel
---
30-day money-back guarantee
Free Shipping in U.S.
Buy now, get in 2 days
العلامة التجارية: لامارزوكو
نموذج: جي بي 5 إس ثلاث مجموعات بخاصية التحكم الحجمي
مواصفات المنتج
غلايتان منفصلتان واحدة مخصصة لاستخلاص القهوة والأخرى لإنتاج البخار.
نظام التسخين المسبق.
رؤوس المجموعة مغمورة بالماء.
غلايتان معزولتان حرارياً.
نظام (Dual PID) يسمح بالتحكم إلكترونياً بدرجة حرارة غلاية القهوة والتبخير.
ضبط دقيق لدرجة حرارة موزع الماء الحار.
يد الترشيح من الستانلس ستيل مزودة بسلة ترشيح دقيقة.
شاشة رقمية لعرض بيانات الجهاز.
سدادة الروبي لمقاومة تكون الرواسب الكلسية.
برمجة كمية الاستخلاص.
نظام التنظيف الآلي (Auto back-flush).
ميزة تسخين الأكواب.
بيانات المنتج
سعة غلاية القهوة: 5 لتر
سعة غلاية التبخير: 11 لتر
الجهد الكهربائي: 220V – 60Hz
القوة الكهربائية: 6100W
الارتفاع: 47.5 سم
العرض: 95 سم
العمق: 62.2 سم
الوزن: 74 كجم
صنع في إيطاليا


Brand: La Marzocco
Model: GB5 S AV 3 Group
Specifications
Dual boilers optimize espresso brewing and steam production.
pre-heating system
Saturated groups.
Insulated boilers.
Dual PID allows you to electronically control coffee and steam boiler temperature.
Hot water economizer to fine-tune the tap water temperature for tea.
Stainless steel portafilters and precision baskets.
Digital display.
Ruby flow restrictors resist scale formation and erosion.
Programmable doses.
Auto back-flush program.
Cup warmer.
Product information
Coffee boiler capacity: 5 L
Steam boiler capacity: 11 L
Voltage: 220V – 60Hz
Wattage elements: 6100W
Height: 47,5 cm
Width: 95 cm
Depth: 62,2 cm
Weight: 74 kg
Made in Italy